Raw Banana Kofta Curry Recipe-Kachche Kele Ka Kofta-Green Banana Kofta Curry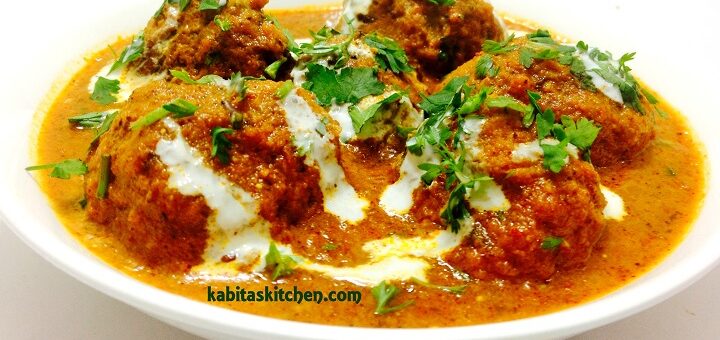 Preparation Time-45 minutes
Serving-5
Ingredients–
Raw banana-3

Potato-2

Chopped onion-3

Chopped green chilli-2

Garlic cloves (peeled)-10

Chopped Ginger-1 inh

Gram flour (besan)-3 tbsp

Tomato puree-1/2 cup or 50 gm approx.

Cumin seeds-1 tsp

Asafoetida(hing)-2 pinch

Red chilli powder-1 tsp

Turmeric powder-1 tsp

Cumin powder-1 tsp

Coriander powder-1 tsp

Ginger garlic paste-1 tsp

Garam masala powder-1/2 tsp

Fresh cream-2 tbsp

Cooking oil

Salt to taste

Water

Chopped coriander leaves for garnish
For Kofta-
Boil the raw banana and potato together along with the skin in pressure cooker for 3 whistle.

Peel off the outer layer of banana and potato and mash it or grate it.

Add 3 tbsp gram flour, chopped green chilli, one finely chopped onion, ginger garlic paste, 1/3 tsp turmeric powder and mix all together with boiled banana and potato.

Mash it properly, make sure no lumps in it.

Make equal size of small balls and fry it till it turns golden brown.

Take out on the kitchen towel and keep it aside.
For Masala paste-
Heat a pan, add cumin seeds, add chopped ginger, add garlic cloves and two chopped onions.

Fry it for 3-4 minutes on medium heat till it turns light brown.

Turn off the heat and let it cool down a little.

Put into the blending jar and blend it into thick paste (add little water if needed).

Masala is ready .
For Gravy/Curry-
Turn on the flame and heat a pan.

Add asafoetida (hing), add cumin seeds and fry it for 30 seconds.

Add red chilli powder and turmeric powder into the oil for nice red colour of curry.

Add blended masala paste into the pan and fry it for 3-4 minutes on medium heat.

Add cumin powder and coriander powder and fry it for another minute.

Add tomato puree and mix it into the fried masala paste, cook it for 2-3 minutes.

Add a glass of water and let it boil.

Add salt to taste, garam masala powder and simmer the heat.

Add 2 tbsp fresh cream and stir it properly.

Turn off the heat and put all the fried kofta into the curry.

Garnish with fresh chopped coriander leaves and fresh cream.

Ready to serve with Chapati, roti, pulav, naan, kulcha or plain rice.