Chicken Kathi Roll or Chicken Frankie(Bengali Egg Chicken Kathi Roll)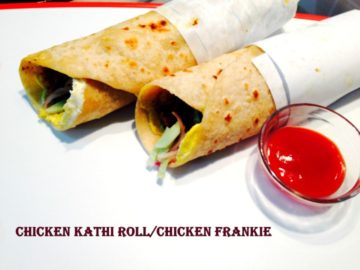 FOR DOUGH 
Refine flour(maida)-200 gm
Wheat flour-100 gm
Salt -1 tsp
FOR FILLING
Chicken breasts(boneless)-250 gm
Onion chopped-5
Ginger garlic paste-1 tsp
Cumin seeds-1 tsp
Turmeric powder-1 tsp
Red chilli powder-1 tsp
Chicken masala powder-2 tsp
Garam masala powder-1 tsp
Chat masala powder-1 tsp
Lemon juice-3 tsp
Cooking oil- 3 tbsp
Cucumber chopped-1
Onion chopped-2
Lemon juice-1 tsp
Chat masala-1 tsp
Salt to taste
*Green chutney-4 tbsp (grind mint leaves,coriander leaves, green chilli.garlic cloves, lemon juice and salt)
Egg-2 beaten
METHOD-
DOUGH
        In a bowl, mix refine flour and wheat flour together. Add salt and water and knead into a dough.

CHICKEN
Heat oil in a pan, add cooking oil and let it heated. Add cumin seeds and let it crackle.
Add chopped onions(2 large) in the pan and fry till it turns light brown. Add ginger garlic paste.
Add turmeric powder and red chilli powder and mix it with onions.
Add chicken and salt and cook it on medium heat for 10 mins, make sure chicken is properly cooked.
Add chicken masala powder and cook it for 5 mins.Add garam masala powder,chat masala powder and lemon juice and cook it another 5 mins.
Turn off the heat and keep aside for filling.
Divide the dough into equal balls, make chapati with the help of rolling pin and cook it on pan (Tawa).
Apply little oil on the chapati and cook it from both sides(keep aside).
Add little oil in pan and allow to heat, pour the beaten egg on pan and put one chapati over it.
Cook it from both sides and remove from pan.
Mix chopped cucumber. chopped onions, lemon juice, chat masala powder and little salt.
Take the chapati(egg side up), spread the green chutney on egg coated chapati, place chicken pieces in the middle.
Put some salad over the chicken and roll the chapati tightly over the stuffing, wrap the lower part of roll with paper napkin and serve.
*Note-Green chutney recipe available on my you tube channel @http://youtu.be/l-8HkjGlYeY