Eggless curd cake recipe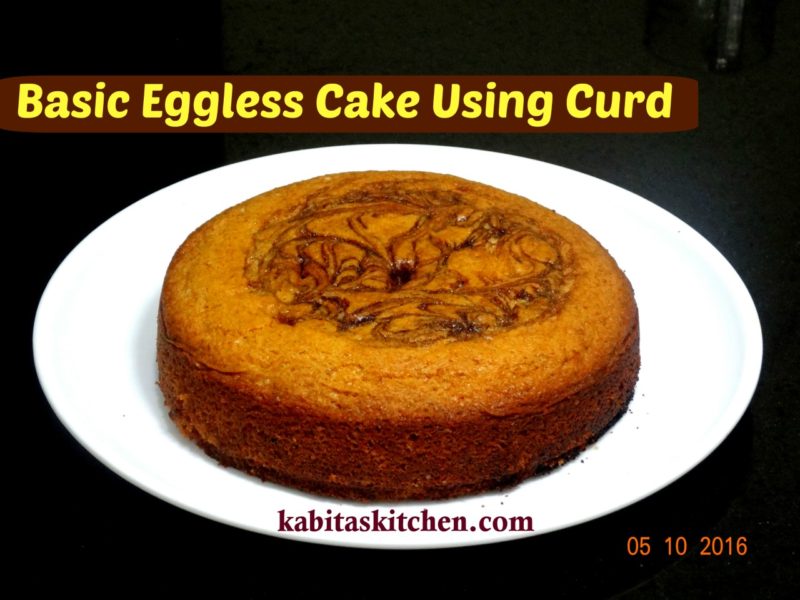 Preparation time eggless curd cake-60 minutes
Serving-5
Ingredients for eggless curd cake:
All purpose flour(maida)-1 cup
Sugar(powdered/grounded)-1 cup
Fresh curd/yogurt-1/2 cup
Ghee or butter(melted)-1/3 cup
Milk-1/4 cup
Baking powder-1 tsp
Baking soda-1/2 tsp
Vanilla essence-1 tsp
Chocolate syrup-2 tbsp
Method:
Preheat the oven at 180 degree for 20 minutes.
Put butter paper on base of the cake tin and grease the tin with ghee, keep it aside.
Sieve the plain flour along with baking powder and baking soda in a mixing bowl.
In a separate bowl, add curd and whisk it for a minute.
Add ghee or butter and whisk it for a minute.
Add powdered sugar and vanilla essence, mix it well.
Put flour in the prepared batter and whisk it in one direction. 
Add little milk(1/4 cup) and make a semi-thick batter.
Pour the batter immediately into the cake tin, tap the cake tin 2-3 times to level the batter evenly.
Add little chocolate syrup on top, use knife or toothpick to give marble effect (look at the video for the process).
Place the cake tin inside the oven carefully, make sure the tray is placed at middle of the oven.
Bake it for 25-30 minutes at 180 degree, after 25 minutes, check the cake with toothpick or knife.
Take out the cake from the oven and let it cool down a bit.
Gently remove the cake tin and butter paper and cut it into pieces.
Eggless curd cake is ready to serve.