Fish Head Curry-Bengali Macher Matha diye daal-Fish Head with Yellow Lentil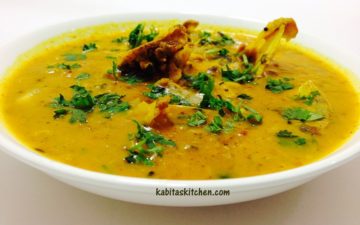 Preparation Time-40 minutes
Serving-4
 Ingredients:
Rohu fish head(clean and wash it)-1
Moong dal-150 gm
Chopped onion-1
Crushed Garlic-10
Dry red chilli-2
Bay leaves-2
Panch Phoron-1 tsp
Turmeric powder-1 tsp
Red chilli powder-1/2 tsp
Cumin powder-1/2 tsp
Coriander powder-1/2 tsp
Black pepper powder-1/4 tsp
Garam masala powder-1/3 tsp
Cooking oil-4 tbsp
Water-1 and 1/2 glass
Salt to taste
Chopped Coriander leaves
Method:
Marinate the fish head with turmeric powder and little salt, keep it aside(10 minutes).
Turn on the flame and heat a pressure cooker.
Roast the moong dal for 4-5 minutes in the cooker without oil(without lid).
Add water, turmeric powder and salt into the cooker and mix it.
Close the lid of cooker and cook the dal for 2 whistles on high flame.
Heat a pan, add cooking oil and let it heat.
Fry the fish head on medium flame from both side for 4-5 minutes.
Crush the fried head into small Pieces with the help of cooking spoon into the pan.
Fry the crushed fish head for another 2 minutes and take out from the pan.
Heat 2 tbsp of oil in the same pan, add panch phoron, dry red chilli and bay leaves.
Let it fry for few seconds, add crushed garlic and fry it for a minute.
Add chopped onion and fry the onion till it turns soft.
Add turmeric powder, chilli powder, cumin powder, coriander powder and black pepper powder into the fried onions.
Fry the spices for 1-2 minutes then add fried fish head and mix it properly.
Add the boiled moong dal into the pan, add little water, mix it and let it come to boil.
Add little salt and garam masala powder, stir it.
Garnish with chopped coriander leaves and turn off the heat.
Ready to serve with plane steam rice, Jeera Rice or Pulav Rice etc.