Green chilli pickle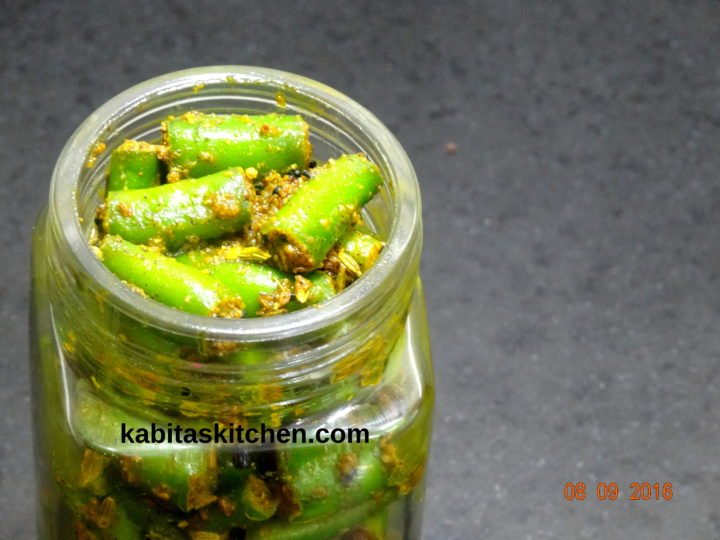 Preparation time for green chilli pickle-40 minutes
Ingredients for green chilli pickle:
Green chilli(medium spicy)-200 gm 

(wash it and dry it before use)

Mustard oil-50 gm

Cumin seeds-1 tbsp

Coriander seeds-1 tbs

Mustard seeds-1 tbsp

Fenugreek seeds(methi)-1 tsp

Carom seeds(ajwain)-1/2 tsp

Nigella seeds(kalonji/mangraila)-1/2 tsp

Fennel seeds-1 tsp

Turmeric powder-1 tsp

Salt-1.25 tsp or as per taste
Method:
Remove the stem of green chilli and chop it into small pieces, keep it aside.

Turn on the flame and heat a pan on low flame, add coriander seeds, cumin seeds, mustard seeds and fenugreek seeds.

Roast the spices for 40-60 seconds on low flame, keep stirring.

Take it out in a plate and let it cool down a bit then coarsely grind it in a grinder.

Heat a tadka pan, add mustard oil and let it heat properly.

Turn off the flame and let the oil cool down completely.

Add the grounded roasted masala powder in green chilli slices and mix it.

Add carom seeds, niggella seeds, fennel seeds, turmeric powder and salt.

Mix all the spices properly with the green chilli slices.

Add oil and mix it properly, green chilli pickle is ready.

Consume it for up to 2 weeks, keep refrigerated.
Alternate method to preserve green chilli pickle
Put the prepared green chilli pickle in a clean dry jar, add more oil and cover it with cotton cloth.

Keep it in sunlight for 2-3 days, this will prolong the life of green chilli pickle.