Rasgulla, Bengali Rosogulla, Super Soft Rasgulla, Chena Rasgulla Recipe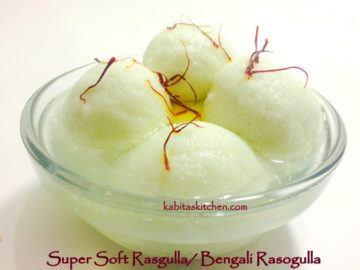 Preparation time- 45 mins
Serving- 4
Ingredients
Whole milk-1 ltr
Lemon-4 tbsp
Sugar-2 cup
Water-3 cup
Saffron (optional)- 1 pinch
For Chena:
Turn on the heat and boil the milk in pan.
When the milk start boiling, add the lemon juice.
When the milk begin to curdle,  increase the heat on medium flame and stir.
As soon the milk is completely curdled, turn off the heat  and stain the milk in cotton cloth.
Run cold water on it to remove the sour taste of lemon completely.
Squeeze it and hang the cotton cloth for 30 minutes.
You can also keep a heavy weight on cotton cloth to extract all the water.
Now the chena is ready to mash.
Knead it continuously for about 10-12 minutes, make small balls of equal size.
For Sugar Syrup:
Heat a pan, add two cups of sugar and three cups of water, let it boil.
When the syrup starts boiling, simmer the heat to the medium flame.
Boil it for another 15 mins, Stir in between to check the consistency of syrup.
METHOD
Add the chena balls into sugar syrup when the syrup has become slightly thick.
Boil it on medium heat for five minutes ( Do not cover).

Simmer the heat and cook it for another 2-3 minutes.

When the Rasgulla will be almost double in size, turn off the heat.

Garnish with saffron and serve hot or cold.