Vegetable Cheese Omelet Recipe-How to make Cheese Omelet-Vegetable and cheese Omelette recipe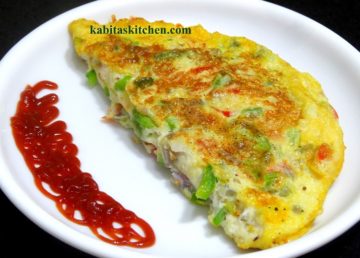 Preparation time-20 minutes
Serving-2
Ingredients:
Egg-4

Cheese-50 gm

Chopped green chilli-1

Chopped onion-1/2

Chopped green capsicum-1/2

Chopped tomato-1/2

Pasta mix(any brand)-1/2 tsp

Italian mix herb/oregano/pizza mix -1/2 tsp

Cooking oil/butter-2 tsp

Salt to taste
Method:
Break the eggs into a bowl and whisk it.

Add chopped vegetables and salt to taste, mix it well.

Heat a frying pan, add oil and let it heat.

Once the oil is heated properly, reduce the flame to low.

Gently pour 1/2 of the egg mixture in the pan( spread it evenly).

Cook it on low flame for a minute, gently flip it to cook other side.

Grate cheese on the cooked side and sprinkle Italian herds on it.

Fold it from the middle and cook it for 1-1.5 minutes on low flame (keep flipping).
Ready to serve.