Aloo Bharta Sandwich Recipe-Grilled Potato Sandwich-Potato Sandwich Recipe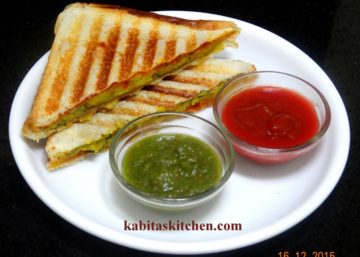 Preparation time-30 minutes
Serving-4
Ingredients:
Bread slices (white/brown)- 8

Boiled potato-3

Curry leaves-8 to 10

Chopped green chilli-2

Chopped onion-1

Chopped coriander leaves

Ginger garlic paste-1 tsp

Schezwan sauce/tomato ketchup-2 tbsp

Green chutney- 2 tbsp

Turmeric powder-1/3 tsp

Butter-1 tbsp

Cooking oil-2 tbsp

Salt to taste
Method:
Mash/grate the boiled potatoes and keep it aside.

Heat oil in a pan, add curry leaves, green chilli and 

onion, fry it for 2 minutes on medium flame.

Add ginger garlic paste, turmeric powder and salt, mix it and fry it for a minute on low flame.

Add grated/mashed potatoes, fry it for a minute on low flame.

Add coriander leaves, fry it for one more minute on medium flame, keep stirring.

Turn off the flame and take out the aloo bharta in a bowl.

Take four bread slices and apply green chutney on one side of these bread slices.

Apply aloo bharta on top of green chutney on each chutney coated bread slice.

Apply schezwan sauce on one side of remaining four bread slices.

Place one schezwan sauce coated bread slice on each aloo coated bread slice.

You may apply little ghee/butter on both side of the sandwiches.

Grill the sandwiches in sandwich grill, t

ake it out from the grill and cut it diagonally.

Ready to serve with to tomato ketchup.