Bengali mustard fish Curry(sarse bata maach)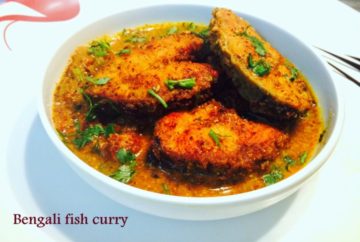 Ingredients–
Fish fillet(Rohu)-500 gm

Mustard seeds-2 tbsp

Green chillies slit-4

Cumin seeds-2 tsp

Coriander seeds-1 tsp

Black pepper(whole)-1 tsp   

Red chilli powder-2 tsp

Turmeric powder-3 tsp

Garlic cloves-15 pcs approx

Ginger chopped-1 inch

Tomatoes chopped-2 large

Cooking oil(Mustard)-6 large tbsp

Salt to taste

Chopped coriander leaves
For masala paste–

Put together the mustard seeds, cumin seeds, coriander seeds, garlic cloves, ginger, whole black pepper with 1 tsp of turmeric powder and little water. Grind it till it turns into a smooth thick paste.
Clean the fish with water and marinate with 2 tbsp blended masala paste, 1 tsp turmeric powder and 1/2 tsp of salt and set aside for 20 mins.

Heat 4 tbsp of mustard oil and fry the fish from both sides till it turns brown.

Heat oil in the same pan, when the oil is heated, add 1 tsp of cumin seeds,1 tsp of mustard seeds and 2-3 slitted green chillies. Cook for few seconds and let it crackle.

Now add 1 tsp of turmeric powder, 2 tsp of red chilli powder in the oil and stir. 

Add masala paste into the oil and fry it for 5-6 minutes on low flame, keep stirring after regular intervals.

Add chopped tomatoes to pan and fry till tomatoes turns soft. 

Keep frying the paste till oil starts separating from the masala.

Add a glass of water in the pan and bring to boil. 

Add salt and fried fish in the gravy.

Cook on a low heat for another 4-5 minutes and turn off the the heat.

Garnish with chopped coriander leaves and serve hot with plain steamed rice.