Dahi Aloo ki Sabzi- Potato with yoghurt-Easy and Quick Potato Curry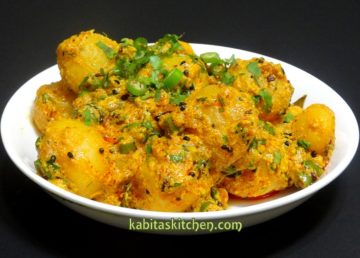 Preparation time-15 minutes
Serving-4
Ingredients:
Boiled potato-400 gm
Curd-200 gm
Chopped garlic-12 to 14 cloves
Chopped green chilli-2 to 3
Bay leaves-2 to 3
Dry red chilli-2
Cuim seeds-1/3 tsp
Mustard seeds-1/3 tsp
Kalonji /onion seeds/nigella seeds-1/3 tsp
Turmeric powder-1/2 tsp
Red chilli powder-1/2 tsp
Chopped coriander leaves
Cooking oil-2 tbsp
Salt to taste
Method:
Add curd in the boiled potato and mix it properly, keep it aside.
Heat a pan, add cooking oil and let it heat.
Add dry red chilli , bay leaves, cumin seeds, mustard seeds and nigella seeds.
Fry it on low- medium flame  for few seconds, keep stirring.
Add chopped garlic and fry it for a minute on low flame.
Add turmeric powder and red chilli powder, mix it.

Turn off the flame and allow the spices to cool down(adding curd in hot spices made result in curdling).

Once the spices have cooled down, add the curd mixed potato in the pan and mix it.
Turn on the flame, add green chilli, mix it.
Cover the pan, cook it on low-medium flame for 3-4 minutes.
Add coriander leaves and turn off the flame.
Ready to serve with naan, kulcha or paratha etc.