Caramel Kulfi Recipe-How to make Caramel Malai Kulfi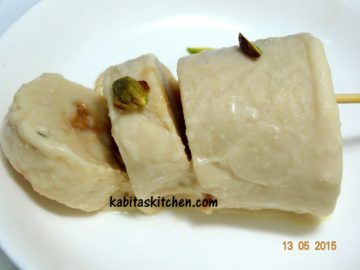 Preparation time-40 minutes
Serving-4
Ingredients:
Whole milk-1 litre
Sugar-100 gm
Caramel toffee(alpenliebe)-10 t0 12 pcs
Method
Turn on the flame and put the milk pan on it, let the milk boil.
Simmer the flame, add sugar and stir it.
Boil the milk on low-medium flame till its reduces to 1/4 of its original quantity (keep stirring in between).
Turn off the flame and let it cool down.
Crush the caramel toffee( do not make too small pcs) and mix it in prepared malai.
Fill the prepared mixture in the kulfi maker and put it in freezer for 6-8 hours.
Take out from freezer and  ready to serve.