Chicken Bhuna with Onion and Whole Spices/ Chicken Khada Masala Recipe / Murg Khada Masala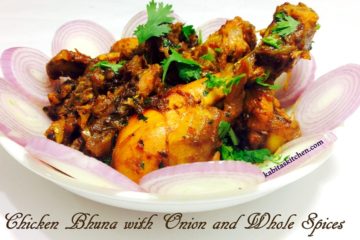 Preparation time-45 minutes
Serving -5
Ingredients:
Washed Chicken (with bones)-600 gm

Chopped onions-6 (medium size)

Onion pieces (cut into 4 or 6 pcs)-2

Garlic cloves (peeled)-50 gm

Chopped ginger -50 gm

Bay leaves-3

Dry red chilli-5

Javitri-1

Laung-4

Black cardamom-2

Dalchini(cinnamon stick)-1 inch

Cumin seeds-1 tbsp

Coriander seeds-1 tbsp

Whole black pepper-1 tsp

Turmeric powder-1 tsp

Red chilli powder-2 tsp

Mustard oil/any cooking oil-4 tbsp

Salt to taste

Coriander leaves for garnish
Method:
Crush the javitri, laung, black cardamom and cinnamon stick together and keep it aside.

Crush the coriander seeds and cumin seeds and keep it aside.

Crush half of the garlic (25 grams) cloves and whole chopped ginger.

Turn on the flame and heat a pan, add mustard oil into the pan and let it heat.

Add bay leaves, dry red chilli into the hot oil and fry it for 5-7 seconds.

Add cumin seeds and let it crackle, add crushed coriander seeds and crushed black pepper into the pan.

Add crushed garam masala (dalchini, laung,elaichi,javitri) and fry it for a minute.

Add whole garlic cloves and onion pieces and fry it for one more minute.

Add crushed garlic and crushed ginger and cook it for 1-2 minutes on medium flame.

Add turmeric powder and red chilli powder and mix it with other fried spices.

Add chopped onions and 1 tsp salt together and fry the onions till it turns light brown on medium heat(cover the pan).

When the onions get half cooked(it has turned light brown), add chicken and salt to taste and mix it properly with onions and other spices.

Cover the pan and cook it for 30-35 minutes on medium heat or low heat (Stir in between to prevent burn).

After thirty minutes, add chopped coriander leaves and turn off the heat.

Ready to serve with Paratha, chapati or roti.