Mix Vegetable Dal Khichdi for Infants, Toddlers-Indian healthy Baby Food Recipe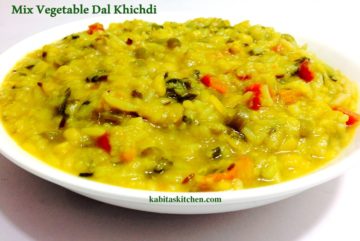 Ingredients:
Rice(any type)-50 gm
Moong dal-50 gm
Toor dal-25 gm
Chopped onion-1(small)
Chopped tomato-1(small)
Chopped garlic-4
Chopped french/green beans-50 gm
Chopped carrot-1
Chopped Spinach-5- gm
Chopped bottle gourd-100 gm
Asafoitida(hing)-1 pinch
Cumin seeds-1/2 tsp
Turmeric powder-1/2 tsp
Salt to taste
Ghee/cooking oil-2 tbsp
Water
Method:
Turn on the heat and put a pressure cooker on it, Let the cooker heat.
Add ghee into the pan and let the ghee heat.
Add hing, cumin seeds and chopped garlic into the hot ghee and fry it for few secobds.
Add chopped onions and fry it till it turns light brown.
Add chopped green beans, chopped carrot and chopped bottle gourd and fry it for 3-4 minutes(cover the pan without whistle).
Add chopped spinach, chopped tomato and cook it for another minute(cover the pan).
Add washed moong dal, washed toor dal and washed rice into the fried vegetables.
Add two glass of water, turmeric powder and salt to taste.
Stir it properly, close the lid of cooker and cook it for four whistle(2 whistle on medium heat and two on high heat).
After four whistle, turn off the heat and let the pressure cooker cool down.
Open the cooker and the khichdi is ready to serve.
For infants, blend it or grind it.