Khandvi – Suralichi vadi-Surali Vadi-Gujrati Authentic Khandvi Recipe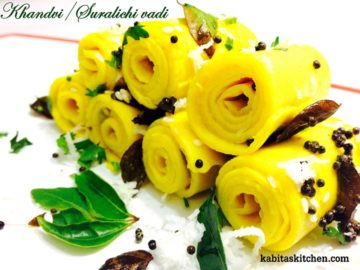 Preparation time– 45 minutes
Serving– 4
Ingredients-
For Batter:
Gram flour-1 cup
Curd/Yogurt-2 cup
Ginger and Green chilli paste-1 tbsp(1 inch ginger, 4 green chilli)
Turmeric powder-1/2 tsp
Salt to taste
Water
For Tadka:
Cooking oil-1 tbsp
Curry leaves-10 to 12
Mustard seeds-1 tsp
For Garnish:
Grated fresh coconut
Sesame  seeds-1 tsp
Chopped coriander leaves
Method-
In a big bowl: add gram flour, curd, ginger, green chilli paste, turmeric powder and salt to taste.
Mix all properly, ensure that there are no lumps in the batter.
Turn on the heat and put a thick pan over it, let the pan heat.
Pour the batter into the pan and stir it continuously.
Cook first five minutes on low heat,  increase the heat and cook it for another five minutes on medium heat, keep stirring. 
Lower the heat and cook it for ten minutes on low heat, keep stirring. 
Meanwhile grease backside of two steel plates with oil and keep it aside. 
To test the batter consistency, put a little portion of cooked batter on the greased steel plate.
Spread it and leave it for 2-3 minutes. If it rolls properly then batter is ready.
Turn off the heat and stir the cooked batter.
Put one ladle(serving spoon) of batter on a grease plate immediately after turning off the heat. 
Spread the batter equally in all direction using flat spoon, spread it faster otherwise it will turn into lumps.
Leave it for 5-7 minutes, Cut using knife in straight line.
Roll it one by one in one direction, khandvi is ready for tadka. 
For tadka: heat a tadka spoon, add 1 tbsp cooking oil and let the oil heat. 
Add mustard seeds, add curry leaves and fry it for 20 seconds.
Turn off the heat and put the tadka over the khandvi. 
Garnish with sesame seeds, fresh coconut and coriander leaves. 
Ready to serve.