Maharashtrian Pithla Recipe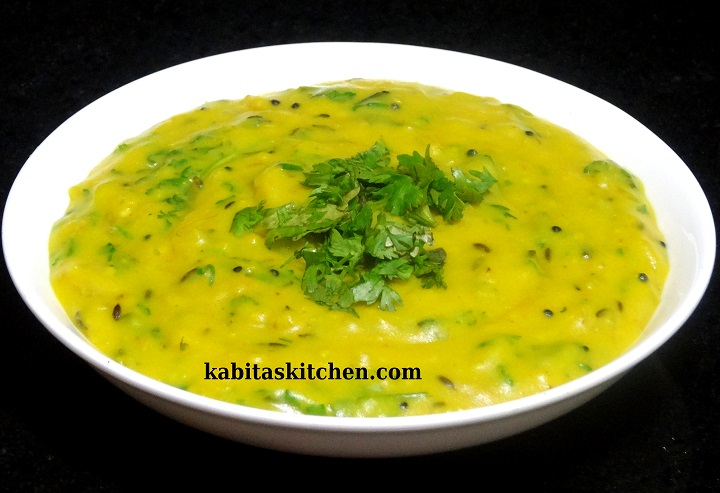 Preparation Time maharashtrian pithla – 30 minutes
Serving-5
Ingredients for maharashtrian pithla:
Gram flour-50 gm(4 tbsp)
Chopped onion-1
Green chilli and garlic (paste/crushed)-2 tsp
(2 green chilli and 8 garlic)
Curry leaves-5 to 7
Green chilli(slit)-2
Spring onion-25 gm
Asafoetida(hing)-1/3 tsp
Cumin seeds-1/2 tsp
Mustard seeds-1/2 tsp
Turmeric powder-1/2 tsp
Lemon juice-1 tbsp
Salt to taste or 1.5 tsp
Chopped coriander leaves-1/3 cup
Water- 2 glass(500 ml)
Cooking oil-3 tbsp
Method:
Sieve the gram flour in a large bowl.
Add 1/2(150 ml) glass of water, keep mixing the flour while adding water.
Mix it properly so that there are no lumps in the batter, batter is ready, keep it aside.
Heat a pan, add oil and let it heat.
Add cumin seeds, mustard seeds, asafoetida, curry leaves and green chilli and fry it for few seconds on medium flame.
Add chopped onion and fry it for 2 minutes on medium flame.
Add green chilli and garlic paste, let it fry for a minute on low flame.
Add turmeric powder, mix it and cook it for a minute on low flame.
Add spring onion, fry it for a minute on low flame.
Add 1.5 glass of water and stir it, cover the pan and allow it to come to boil.
Open the lid and stir it, pour the batter in pan, keep stirring to avoid the lumps/curdle.
Add lemon juice and salt, mix it well.
Cover the pan, cook it for 10 minutes on low flame(keep stirring in between).
Turn off the flame, add coriander leaves and mix it.
Maharashtrian pithla is ready, serve hot with jawar/bajra ki roti or bhakhri.