Chicken 65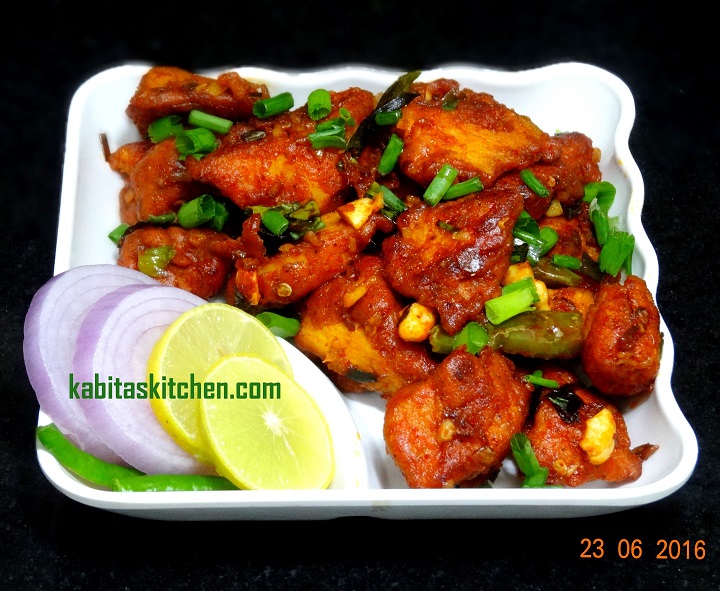 Preparation time for chicken 65 -45 minutes
Serving-4
Ingredients for chicken 65:
Chicken(washed)-400 gm
Egg-1
All purpose flour(maida)-1 tbsp
Corn flour-1 tbsp
Rice flour-1 tbsp
Ginger garlic paste-1 tbsp
Black pepper powder-1/4 tsp
Turmeric powder-1/3 tsp
Kashmiri red chilli powder-2 tsp
Cumin powder-1/2 tsp
Coriander powder-1/3 tsp
Garam masala powder-1/2 tsp
Salt-1.25 tsp or as per taste
Cooking oil-250 gm
Green chilli(slit)-2 to 3
Garlic(finely chopped)-12 to 15
Curry leaves-10 to 12
Spring onion(chopped)-1/2 cup
Lemon juice-2 tbsp
Cashew(chopped)-6 to 8
Red chilli sauce/red chilli paste-2 tbsp
Method:
Take a bowl, add chicken, all purpose flour, corn flour, rice flour, turmeric powder, garam masala powder, coriander powder, cumin powder, kashmiri red chilli powder, black pepper powder, 1 tbsp lemon juice, ginger garlic paste and salt.
Crack the egg and put it into the chicken, mix it properly.
Cover it and keep it in refrigerator for 20 minutes for marination.
Heat sufficient oil in a pan and let it heat properly.
Once the oil is heated properly, reduce the flame to low-medium.
Put the marinated chicken one by one in hot oil, fry it on low-medium flame for 3 minutes.
Flip it to fry other side and fry it for 3 minutes on low-medium flame.
Once the chicken turns golden brown, take it out on the kitchen towel.
Heat a pan, add oil and let it heat properly.
Add chopped garlic, green chilli and fry it for 30-40 seconds on medium flame.
Add curry leaves, kashmiri red chilli and red chilli powder, fry it for few seconds.
Add red chilli sauce and 2 tbsp of water, mix it properly.
Add spring onion and lemon juice, mix it.
Add fried chicken, fry it for a minute on medium-high flame.
Add cashew, mix it and turn off the flame, garnish with spring onion, toss it.
Hot and spicy chicken 65 is ready to serve.