Mint Coriander Chicken Curry-Chicken with Cilantro and Mint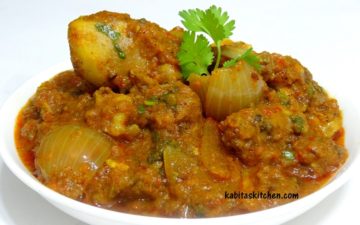 Preparation time-90 minutes
Serving-4
Ingredients:
For marination:
Chicken (washed)-500 gm(medium pcs)
Coriander leaves-1/2 cup
Mint leaves-1/2 cup
Green chilli-2
Garlic cloves (peeled)-15 to 16
Chopped ginger- 2 inch
Turmeric powder-1/2 tsp
Salt-1/2 tsp
For Curry:
Roughly chopped onion-1
Chopped onion in square shape-1
Chopped tomato-1
Chopped ginger-1 inch
Garlic cloves (peeled)-10
Turmeric powder-1/2 tsp
Red chilli powder-1 tsp
Chicken masala powder (any brand)-1 tsp
Cumin seeds- 1tsp
Cooking oil-4 to 5 tbsp
Chopped coriander leaves
Salt to taste
Method:
Marination:
In a blending jar: Add garlic, ginger, green chilli, coriander leaves and mint leaves.
Add little water and blend it into thick smooth paste.
Add turmeric powder, salt, blended masala paste into the chicken and mix it properly.
Keep it in refrigerator for one hour.
Curry Preparation:
In a blending jar: add ginger, garlic, roughly chopped onion and tomato and blend it without water, keep the paste aside.
Heat a pan, add 3 tbsp oil and let the oil heat properly.
Add the marinated chicken in the pan and fry it for 3-4 minutes on medium flame (cover and cook).
Once the chicken is half cooked, take out in a plate and keep it aside.
Put 2 tbsp oil in the same pan and let it heat, add cumin seeds and fry it for few seconds.
Add turmeric powder, red chilli powder and chicken masala powder into the pan and mix it.
Add the blended masala paste and fry the masala on medium flame till oil is separated from it.
Add  square shape chopped onion and cook it for a minute on medium flame.
Add 1/2 glass of water, add little salt (we had already added salt in marination process) and stir it.
Once the curry start boiling, add the half cooked chicken into the gravy and gently mix it.
Cover the pan and cook it for 3-4 minutes on slow flame, turn off the flame.
Garnish with freshly chopped coriander leaves and serve hot.