Stuffed Snake Gourd-Snake gourd Recipe-Stuffed Padwal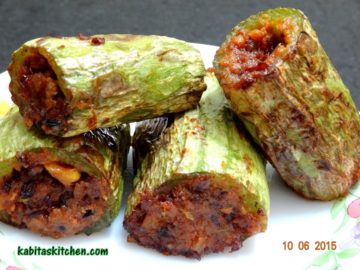 Preparation time-40 minutes
Serving-4
Ingredients:
Snake gourd pieces-7 (Each 4-5 inch)
Finely chopped onion-1
Roughly chopped onion-1/2
Chopped ginger-2 inch
Garlic cloves (peeled)-15
Cumin seeds-1 tbsp
Coriander seeds-1 tsp
Whole black pepper-1/2 tsp
Turmeric powder-1/2 tsp
Red chilli powder-1/2 tsp
Garam masala powder-1/3 tsp
Dry mango powder (aamchur powder)-1/2 tsp
Salt to taste
Cooking oil-5 tbsp
Method:
In a blending jar: add cumin seeds, coriander seeds, whole black pepper, roughly chopped onion, ginger and garlic.
Blend it into thick paste using 2-3 tbsp of water, keep it aside.
Remove the inner part (i.e. seeds) of the snake gourd with knife (keep the seeds for further use).
Heat a pan, add 2 tbsp cooking oil and let the oil heat properly.
Add cumin seeds and fry it for few seconds.
Add chopped onion and fry it till it turns little soft.
Mash seeds of snake gourd with hand and add to to frying pan, add blended masala paste, stir it.
Add turmeric powder, red chilli powder, dry mango powder, garam masala and salt to taste.
Fry the masala on low flame till oil is separated from it (cover and cook).
Turn off the flame and let the fried masala paste cool down completely.
Gently fill the snake gourd pieces with the prepared masala paste.
Heat a pan, add 3 tbsp cooking oil and let the oil heat.
Put all the stuffed snake gourds into the pan, cover the pan and cook it on slow flame.
Cook it on slow flame for 8-10 minutes (keep flipping in between to cook all sides of snake gourd).
Turn off the flame and take it out on the kitchen towel.
Ready to serve with Rice daal, chapati, paratha, puri etc.