Mix Vegetable Sabzi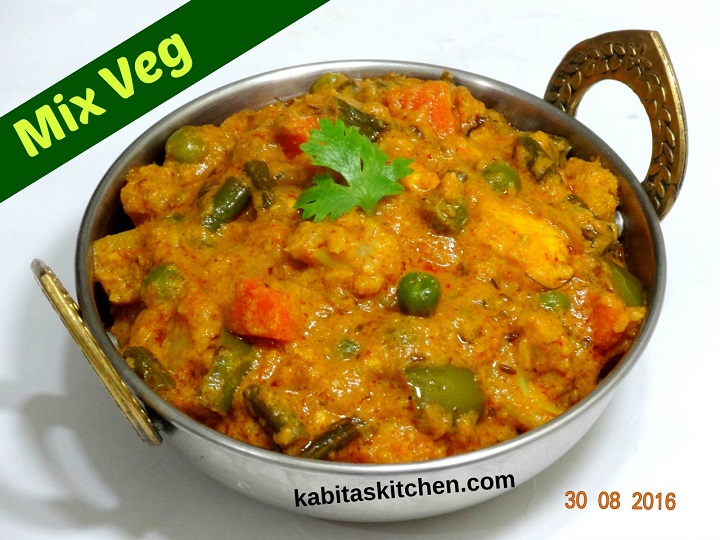 Preparation Time for mix vegetable-40 minutes
Serving-5
Ingredients for mix vegetable:
Potato(chopped)-1(large)
Carrot(chopped)-1(medium)
Capsicum(chopped)- 1(small)
Cauliflower(chopped)-50 gm
French beans(chopped)-50 gm
Green peas(frozen/fresh)-25 gm
Paneer(Indian cottage cheese)-100 gm
Ginger(chopped)-2 inch
Green chilli-2 to 3
Garlic(peeled)-8 to 10
Onion(chopped)-1
Tomato(chopped)-1(large)
Cashew-10 to 12
Cooking oil-5 tbsp
Fresh cream-1.5 tbsp
Cumin seeds-1/2 tsp
Turmeric powder-1/3 tsp
Red chilli powder-1 tsp
Cumin powder-1/2 tsp
Coriander powder-1/2 tsp
Garam masala powder-1/2 tsp
Dry fenugreek leaves(kasuri methi)-1/2 tsp
Salt to taste
Method:
Turn on the flame and heat a pan, add oil and let it heat properly.
Add garlic, ginger, green chilli, onion and cashew, fry it for 2 minutes on medium flame.
Add tomato, mix it and fry it for another 2-3 minutes on medium flame.
Turn off the flame and take it out in the blending/grinding jar and let it cool down.
Once it has cooled down, blend it into thick smooth paste(do not add water).
Heat little oil in the pan, add potato, carrot, french beans and cauliflower.
Fry the vegetables on medium flame for 4-5 minutes.
Add capsicum and green peas, cook the vegetables for another 2-3 minutes.
Take out the fried vegetables from the pan and keep it aside.
Add 1 tbsp butter or ghee in the same pan and add paneer.
Fry the paneer for a minute on medium flame and then take it out from the pan.
Add oil in the same pan again and let it heat properly.
Add cumin seeds, fry it for few seconds on medium flame.
Reduce the flame to low then add turmeric powder and red chilli powder, stir it.
Add the blended masala paste, cumin powder and coriander powder.
Mix it and cook it for 2-3 minutes on low flame(cover the pan).
Put 1 glass(approx 250 ml) of water, salt and stir it well.
Add the fried vegetables, mix it and cook it on low flame till the vegetables are cooked properly(cover the pan).
Put paneer and fresh cream, mix it well.
Add garam masala powder and stir it, cover the pan and cook it for one minute on low flame.
Sprinkle dry fenugreek leaves on top and turn off the flame.
Garnish with coriander leaves, mix vegetable is ready to server, serve it hot.