Namak para-Homemade Crispy Namakpare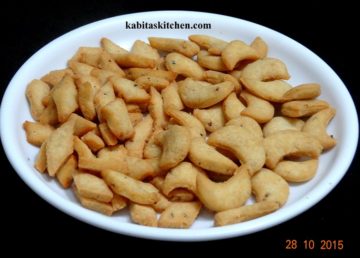 Preparation time-40 minutes
Serving:8
Ingredients:
All purpose flour/wheat flour-200 gm
Ghee/vegetable oil-50 gm
Carom seeds(ajwain)-1 tsp
Black pepper powder-1/2 tsp
Cooking oil for frying
Salt to taste
Water
Method:
Add black pepper, ajwain and salt into the flour and mix it properly.
Add ghee and mix it in the flour for a minute.
Add water and  knead the flour into dough(dough should be a little stiffer than the chapati dough).
Cover the dough and leave it for 15-20 minutes.
Take a portion of the dough and roll it into chapati shape with rolling pin.
Cut it into diamond shape chunks with knife and take out in a plate.
Heat oil in a thick bottom pan.
Put one namakpara into the oil to check the temperature of oil.
Put the small portion of namakpara into the hot oil carefully.
Fry it on low-medium flame till it turns golden.
Take it out on the kitchen towel to absorb extra oil.
Repeat the frying steps to fry the remaining namakparas.
Ready to serve.
*Storing Tip-store it in a airtight container and consume it within 2 weeks