Sabudana Vada Fried and Non-Fried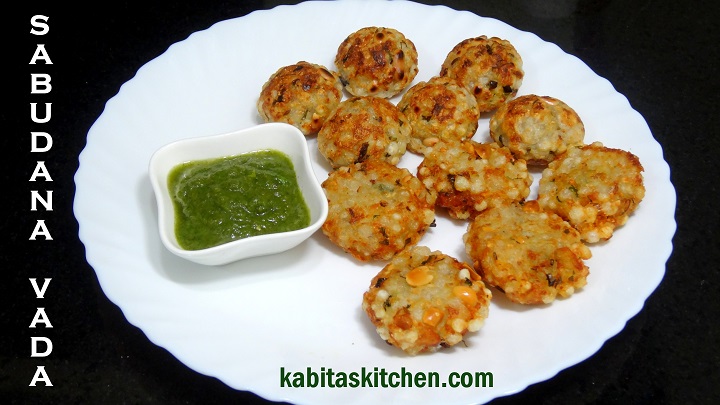 Preparation time for sabudana vada-40 minutes
Serving-5
Ingredient sabudana vada:
Sabudana/ tapioca pearls-150 gm(Soak it in normal water for 4-5 hours)
Boiled potato-4
Roasted peanuts powder-50 gm(roast it for 2-3 minutes on low-medium flame and then coarsely grind it)
Grated ginger-2 inch
Green chilli(chopped)-3
Lemon juice-2 tbsp
Coriander leaves(chopped)-1/3 cup
Cooking oil for frying
Cumin seeds-1/2 tsp
Black salt/rock salt(sendha/kala namak) as per taste
Method:
Grate/mash the boiled potato in a bowl and add soaked sabudana to it.
Add roasted peanuts, coriander leaves, green chilli, ginger, cumin seeds, lemon juice.
Add black salt/rock salt/plain salt, mix it properly.
Grease your palm with water, take small portion of mixture and roll it into ball.
Flattened it a bit to make tikki shape, repeat the process to make remaining vada.
Fried sabudana vada-
Heat sufficient oil in a pan, once the oil is heated properly, reduce the flame to low-medium.
Put 3-4 vadas at a time, fry it for a minute on low-medium flame.
Flip it to fry other side, fry it till it id turns golden from both sides.
Once the vada turns golden brown, take it out on the kitchen towel.
Fried sabudana vada is ready to serve.
Non-fried or appam pan sabudana vada-
Heat a appam pan on low flame, apply few drops of oil in each moulds.
Put the mixture balls one my one in each mould.
Cover the pan and cook it for 3-4 minutes on low flame.
Flip it and cover the pan and cook it until it is evenly cooked from all sides, keep flipping/rotating in between.
Turn off the flame, take it out in a plate, non-fried sabudana vada ready to serve.