Namkeen chivda Recipe-Crispy Poha Chivda-Salty and Crispy Flattened Rice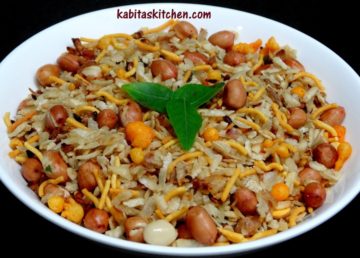 Preparation time-20 minutes
Serving-4
Ingredients:
Poha/chiura (Flattened rice)-150 gm
Mix Bhujiya/Crisp mixture (any type)-1/2 cup
Peanuts-1/2 cup
Curry leaves-10 to 12
Green chilli-2 or 3
Chopped onion-2
Cooking oil-2 tbsp
Black salt/plain salt to taste
Method:
Turn on the flame and heat a pan.
Add peanuts and roast it on low flame for 2-3 minutes, keep stirring.
Take it out on a plate and keep it aside.
Add oil in the same pan and let the oil heat.
Add green chilli, curry leaves  and chopped onions.
Fry the onions on medium flame till it turns light brown.
Add lightly roasted peanuts and chivda/poha (do not wash it).
Mix it and fry it for 3-4 minutes on low flame.
Add bhujiya/mixture and salt in the chivda and mix it.
Increase the flame to medium and fry it for a minute to make it crispy.
Turn off the flame and let it cool down.
Ready to serve.