Egg Bhurji Sandwich-Grilled Egg Cheese Sandwich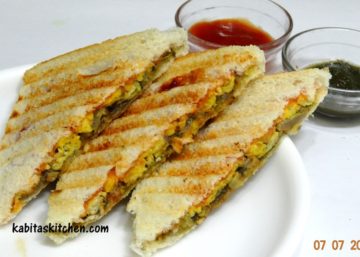 Preparation time-20 minutes
Serving 2
Ingredients:
White/brown bread slices (cut the edges)-4

Egg-2

Chopped onion-1 

Green chutney-2 tbsp

Tomato ketchup-1 tbsp

Cheese-25 gm

Salt to taste

Cooking oil-2 tbsp
Method:
Bhurji preparation:
Heat a pan, add oil and let it heat.

Add chopped onions and fry it on the medium flame till it turns soft.

Crack the eggs in a bowl, add little salt and whisk it.

Add egg in the pan and fry it for a minute, stir continuously.

Turn off the flame and let it cool down.
Sandwich Preparation:
Take one slice of the bread, apply green chutney on it.

Take another slice of the bread and apply tomato ketchup on it.

Put egg bhurji on one slice(chutney coated slice) and grate some cheese over the egg bhurji.

Place the other slice on it, keep it aside.

Prepare other sandwich using same process.

Place the sandwiches in the sandwich maker, grill it.

Take out the sandwiches in a plate, cut it diagonally.

Egg bhurji sandwiches are ready to serve.