Pan Roasted Chicken Recipe-Indian Chicken Starter Recipe-Chicken Roast without Oven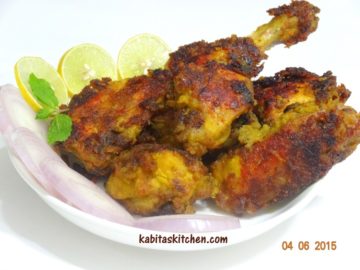 Ingredients:
Chicken (washed)-500 gm(medium pcs)
Coriander leaves-1/2 cup
Mint leaves-1/2 cup
Rice flour-1/2 cup
Chopped onion-1
Dry red chilli-4-5
Black cardamom-1
Cinnamon stick-1 inch
Garlic cloves (peeled)-10 to 12
Chopped ginger- 1 inch
Turmeric powder-1/2 tsp
Lemon juice-3 tsp
Cooking oil-3 tbsp
Salt to taste
Method:
In a blending jar: Add black cardamom, cinnamon stick, garlic, ginger, onion,dry red chilli, coriander leaves and mint leaves.
Add little water and blend it into thick smooth paste.
Add the blended masala paste into the chicken and mix it.
Add turmeric powder, lemon juice, rice flour and salt to taste and mix it properly.
Keep it into the refrigerator for 2 hours.
After 2 hours, take out the chicken from the refrigerator and mix it again.

Heat a pan (non-stick), add cooking oil and let the oil heat.

Put the marinated chicken one by one into the pan, cook it for a minute on medium flame.
Cover the pan and cook it for 3-4 minutes on low flame.
Flip it carefully to cook it other side, cover the pan and cook it for 3-4 minutes on low flame.
Flip it again, cover the pan and cook it for 2-3 minutes on medium flame.
Turn off the flame, take out on the kitchen towel to absorb extra oil from it.
Garnish with onion, lemon slice and sprinkle chat masala on it.
Ready to serve as starter.