Super Tasty Pomfret Fish Fry-Masala Fried Pomfret Recipe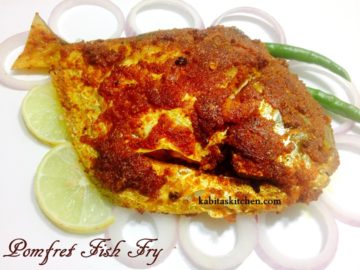 Preparation time-50 minutes
Serving -2
Ingredients:
Pomfret fish (washed)-2
Green chilli-3
Garlic cloves(peeled)-10 to 12
Ginger chopped-2 inch
Turmeric powder-1 tsp
Coriander powder-1 tsp
Cumin powder-1 tsp
Black pepper powder-1/3 tsp
Tandoori chicken masala powder-1 tsp
Kashmiri red chilli powder-1 tsp
Lemon juice-2 tbsp
Gram flour-2 tbsp
Salt to taste
Cooking oil for fry
Method:
Clean pomfret fish and make small slits both sides to allow spices to stuff.
Make a paste of green chilli, chopped ginger, garlic cloves and little water using blender.
In a big bowl, add turmeric powder, kashmiri red chilli powder, cumin powder, coriander powder, black pepper powder and tandoori chicken masala powder.
Add lemon juice  into the masala powder and mix it properly.
Stuff the prepared masala inside the cuts which you did on the both sides of fish.
Add gram flour and 1 tbsp water into the remaining paste and mix it.
Coat the fish with remaining masala paste and keep it in refrigerator for 30 minutes.
Turn on the flame, heat a frying pan

Add sufficient oil into the pan and heat it more than normal frying temperature.

Put a masala coated fish into the hot oil and fry it on high flame for 1-2 minutes.
Reduce the flame to medium and fry it on medium heat for another 3-4 minutes.
Flip it to fry other side, fry till it turns brown from both sides.
Take out on kitchen towel to absorb extra oil.
Garnish with raw onion rings and lemon slice, serve hot.