Paneer 65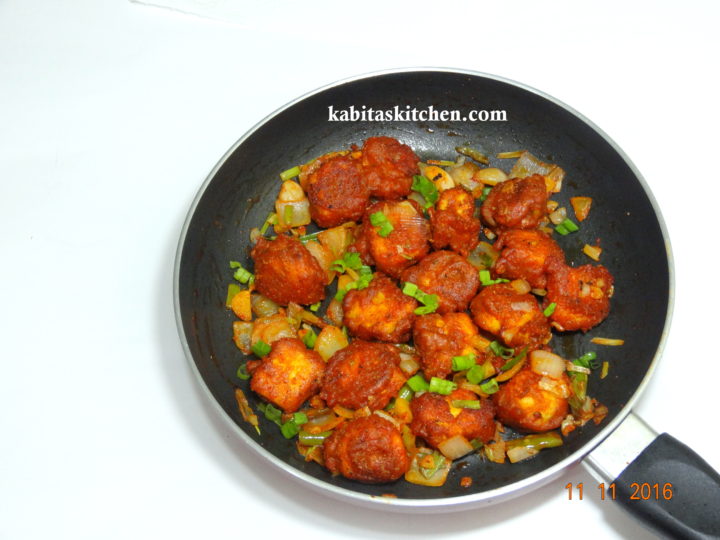 Preparation time for paneer 65 : 45 minutes
Serving: 4
Ingredients for paneer 65:
Paneer(Indian cottage cheese)-200 gm
Green chilli-2
Coriander leaves-1/2 cup
Spring onion-1/4 cup
Garlic-6 to 8
Curd/yogurt-3 to 4 tbsp
corn flour-1 tbsp
Rice flour-1 tbsp
All purpose flour(maida)-2 tbsp
Food colour(red)-1/4 tsp(optional)
Cooking oil for frying(250 gm approx)
Turmeric powder-1/4 tsp
Red chilli powder-1/3 tsp
Cumin powder-1/4 tsp
Coriander powder-1/4 tsp
Garam masala powder-1/4 tsp
Tandoori masala powder-1/4 tsp
Salt to taste or 3/4 tsp
Method:
Add spring onion, garlic, green chilli and coriander leaves in a grinding jar.
Grind it into paste(do not add water).
In a big bowl: add curd and green paste, corn flour, maida, rice flour and all the dry spices.
Add salt and food colour, mix it well and make a thick batter.
Add paneer cubes and mix it, make sure the paneer is coated properly.
Cover it and leave it for 15 minutes in refrigerator.
Heat oil in a pan, once the oil is heated, put 4-5 coated paneer pieces at a time in oil.
Fry it on medium flame till it turns golden, take it out on the kitchen towel.
Repeat the process to fry the remaining paneer.
Tempering:
Heat little oil in a pan, add garlic and fry it for few seconds on medium flame.
Add green chilli and onion, fry it for a minute on medium flame.
Put red chilli powder, curd and spring onion, cook it for a minute on medium flame.
Add fried paneer, toss it and cook it for 1/2 minute on medium or high flame.
Turn off the flame and garnish with spring onion.
Paneer 65 is ready, serve hot with slices onion and lemon wedges.