Shahi Paneer-Restaurent Style Shahi Paneer-Easy and Quick Shahi Paneer Recipe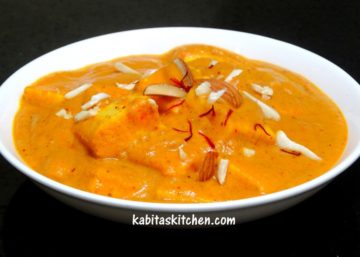 Preparation time-30 minutes
Serving-5
Ingredients:
Paneer cubes(Indian cottage cheese)-200 gm
Ginger (peeled)-1 inch
Garlic cloves (peeled)-8
Chopped tomato-2 (medium)
Chopped onion-2 (medium)
Almond-4
Cashew-10 to 12 pcs
Black cardamom-1
Green cardamom-2
Cinnamon stick-1/2 inch
Cloves (lavang)-2
Curd-1/3 cup
Fresh cream-2 tbsp
Turmeric powder-1/3 tsp
Red chilli powder-1/2 tsp
Coriander powder-1/3 tsp
Cumin powder-1/3 tsp
Garam masala powder-1/2 tsp
Cooking oil-2 tbsp
Salt to taste
Saffron(kesar)-1 pinch (optional)
Method:
Turn on the flame and heat a pressure cooker pan.
Add chopped tomato, Chopped onion, garlic, ginger, almonds and cashews.
Fry it for 2 minutes on low-medium flame, keep stirring.
Add one glass of water, stir it and close the lid of pressure cooker.
Boil it for two whistle on high flame and turn off the flame.
Open pressure cooker when it has cooled down.
Take out the boiled ingredient in a blending jar, keep the stock(boiled water) separate for further use.
Grind it into smooth paste(do not add water or stock), keep it aside.
Heat a pan, add cooking oil and let the oil heat properly.
Add whole spices and fry it for few seconds on medium flame.
Add turmeric powder and red chilli powder in the oil, mix it.
Add blended masala paste, coriander powder and cumin powder, stir it.
Cover the pan and cook it for 2 minutes on low-medium flame, keep stirring in between.
Reduce the flame to low, whisk the curd and add it in the fried masala paste, keep stirring, cook it for a minute.
Add  stock/water(1/2 glass), salt to taste and stir it, cover the pan and cook it for a minute on low flame.
Add paneer and  gently mix it, add fresh cream and stir.
Add garam masala powder, mix it and cover the pan, cook it for another minute on low flame.
Turn off the flame, ready to serve.
     Serving tip :Garnish with some chopped almond, cashew, saffron and cream.