Simple and Easy Mix Vegetable Raita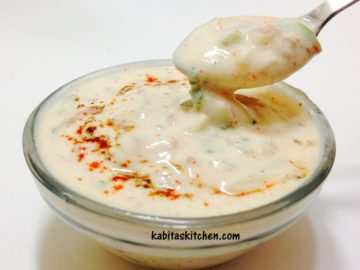 Preparation time-20 minutes
Serving-4
Ingredients:
Curd/yoghurt-400 gm
finely chopped onion-1/2
finely chopped cucumber-1/3
finely chopped tomato-1/2
finely chopped green chilli-1
Red chilli powder-1/2 tsp
Chat masala powder-1/2 tsp
Roasted masala powder-1/3 tsp (cumin seeds, coriander seeds, black pepper and dry red chilli-roast it on tawa and grind it)
finely chopped coriander leaves
Salt to taste
Method:
Whisk the curd well, add all the chopped vegetables and mix it.
Add all the spices and salt into it, mix it properly.
Sprinkle some roasted masala powder and ready to serve.