Smoky Flavoured Dal tadka-Restaurant Style Dal Tadka Recipe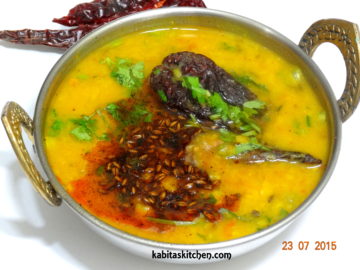 Preparation time-40 minutes
Serving-6
Ingredients:
Toor dal (spilt pigeon peas )-200 gm
Chopped onion-1 (large)
Chopped tomato-1 (large)
Green chilli-2 (slit)
Garlic clove (peeled)-8 to 10
Finely chopped ginger-2 inch
Turmeric powder-1/2 tsp
Red chilli powder-1/3 tsp
Salt to taste
Cooking oil-2 tbsp
Chopped coriander leaves
Charcoal-1 (for smoky flavour)
For Tadka:
Asafoetida (hing)-1/4 tsp
Dry red chilli (tadka chilli)-2
Finely chopped garlic- 5 to 6
Cumin seeds- 2 tsp
Kasuri methi (fenugreek leaves)-1 tsp
Ghee-2 tsp
Method:
Turn on the flame and heat a pressure cooker without lid.
Add cooking oil and let it heat, add green chilli, garlic cloves and chopped ginger, fry it for few seconds.
Add chopped onions, fry it for 2-3 minutes on medium flame.
Add chopped tomato, fry it till it turns soft (keep stirring ).
Add washed toor dal and fry it for 1-2 minutes on medium flame.
Add 2.5 glass of water, turmeric powder and salt, stir it.
Close the lid, boil it for 3 whistle on medium flame.
Turn off the flame and let the pressure cooker cool down, open it and stir.
Tadka preparation:
Heat a tadka pan, add ghee and let it heat.
Add hing, cumin seeds, chopped garlic, dry red chilli, kasuri methi and little red chilli powder.
Fry it for 1/2 minute on medium flame, turn off the flame.
Put the tadka into the cooked dal carefully, close the lid of the cooker for 5 minutes.
Open the pressure cooker, add chopped coriander leaves , stir it.
For Smoky Flavour:
Heat a charcoal on stove, heat it till it turns red.
Put the burnt charcoal in a bowl carefully, pour 1 tsp ghee on it.
Immediately, put the bowl inside the cooker and close the lid for 15 minutes.
Open the pressure cooker and take out the charcoal bowl carefully from it.
Ready to serve with plain rice or jeera rice.