Crispy Prawn 65-Shrimp 65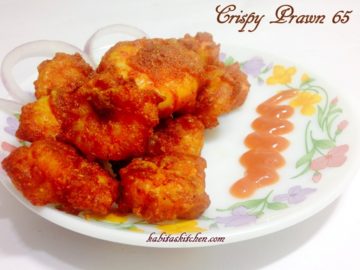 Preparation time-30 minutes
Serving-2
Ingredients:
Prawn (washed)-200 gm

Turmeric powder-1/2 tsp

Kashmiri red chilli powder-2 tsp

Coriander powder-1/2 tsp

Cumin powder-1/2 tsp

Black pepper powder-1/4 tsp

Cornflour-3 tsp

Salt to taste

Lemon juice-1 tbsp

Cooking oil for fry

Water
Method:
Add turmeric powder and little salt into the prawns and mix it.

Heat a pan, add 1/2 glass of water into the pan and let the water heat.

Add the prawns(mixed with salt and turmeric) into the hot water and let the water boil.

Add 1 tsp of kashmiri red chilli powder, coriander powder, cumin powder and black pepper powder.

Stir it, cover the pan and cook it on high flame for 2-3 minutes.

Remove the cover and stir it.

Cover the pan again and cook it on medium flame for 2 more minutes, let the water dry.

Turn off the heat, put the half cooked prawns into a bowl.

Add 1 tsp of kashmiri chilli powder, cornflour, lemon juice, little salt and mix it properly.

Turn on the flame and heat a frying pan.

Add sufficient oil into the pan and let the oil heat.

Put all the prawns one by one into the hot oil, reduce the flame to medium and fry it for 2-3 minutes.

Flip it to fry other sides, fry it from both sides equally.

Take out on the kitchen towel to absorb extra oil, turn off the heat.

Garnish with sliced cucumber and raw onion rings and serve hot.