Vegetable dum biryani recipe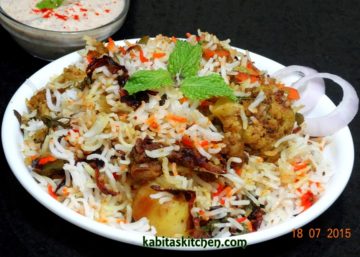 Preparation Time for veg dum biryani -60 minutes
Serving-4
Ingredients for veg dum biryani
Long grain Basmati rice-350 gm

Chopped potato-2

Chopped french beans-100 gm
Chopped cauliflower -100 gm
Chopped carrot-1 medium
Green chilli-3 to 4
Chopped onion-4 (large)
Fresh or frozen green peas-50 gm
Chopped mint leaves-1/2 cup
Chopped coriander leaves-1 cup
Soya chunks -25 gm

 

(Soak in hot water and squeeze it to drain the water).
Paneer/Indian cottage cheese (cubes)-150 gm
Curd/yogurt-350 gm
Bay leaves-2
Cinnamon stick-1 inch
Black cardamom-1
Green cardamom-4
Mace/javitri-1
Shahi jeera/cumin seeds-1 tsp
Turmeric powder-1/2 tsp
Red chilli powder-1 tsp
Shahi biryani masala-3 tbsp
Garam masala powder-1/2 tsp
Salt to taste

Food colour(orange)-1 tsp

Ghee-4 tbsp

Cooking oil-2 tbsp

Saffron-2 pinch(soaked in 2 tbsp milk)
For masala paste:
Green Chilli-3
Chopped ginger-2 inch
Garlic clove (peeled)-12
Mint leaves-1/3 cup
Coriander Leaves-1/3 cup
Method:
Masala Paste Process:
In a blending jar: put all the masala paste ingredients (mentioned above). 

Add 3-4 tbsp water and grind it into paste.
Onion Fry process:
Heat oil, deep fry the finely chopped onions till it turns golden brown.

Take out the fried onion on the kitchen towel to absorb extra oil.
Rice Preparation:
Put 2.5 litre of water in a pan, let it come to boil.

Add washed rice, 4 green cardamom, 1 black cardamom, 1 javitri, 1 inch cinnamon stick , 1/2 tsp salt.

Mix it gently, cover the pan and let it come to boil.

When the rice starts boiling, check the rice, it  should be 70% cooked.

Turn off the flame and drain the rice properly (you may remove the whole spices).
Frying Vegetables:
Heat oil in a pan, add shahi jeera(recommended) or plain jeera and fry it for 20-30 seconds.

 Add potato, cauliflower and carrot, fry for 2 minutes on medium-high flame.

Add green peas, paneer and soya chunks, fry for 2 minutes on medium flame.

Add chopped french beans, prepared masala paste and cook it on low flame for 2 minutes.
Add salt to taste, mix it well, cook it for 1 minute on low flame and turn off the flame.
Biryani Layer preparation:
Take a deep and thick bottom pan, put the fried vegetables on the base of the pan.

 Add yoghurt, turmeric powder, red chilli powder, garam masala powder, biryani masala powder and green chilli.

Put 1/3 of the fried onion on it, coriander leaves, mint leaves and 2 tbsp ghee, mix it well and level it evenly.

Put 2/3 of  the rice on it and spread it evenly, add 1 tbsp ghee, sprinkle  1/2 tsp of food colour.

Add 1/3 (half of the remaining fried onion) of the fried onion, coriander leaves and  mint leaves.
Put the remaining rice on it, add 1 tbsp of ghee and saffron soaked milk on the half part of the rice.

Add 1/2 tsp food colour on the other part of rice ( you may add kewra water and rose water for restaurant style aroma).

Sprinkle remaining coriander leaves, mint leaves and fried onion.
Cooking process for veg dum biryani
Seal the edges of the pot with foil paper, put a heavy tawa/lid on top of the sealed pot.

Turn on the flame and put the biryani pot on it, c

ook it on medium flame for 8-10 minutes.

Reduce the flame to low-medium and cook it for 10-12 minutes.

Turn on the other flame and heat a tawa, o

nce the tawa is heated, transfer the biryani pot on it.

Cook it on tawa for 10-12 minutes on medium flame, t

urn off the flame.

Remove the foil paper carefully to avoid the steam.

Serve in a plate, garnish with onion and lemon slices.

veg dum biryani is ready to eat with raita or any of your favourite gravy.