How to Fry Onions fro Biryani-Fried Onions For Biryani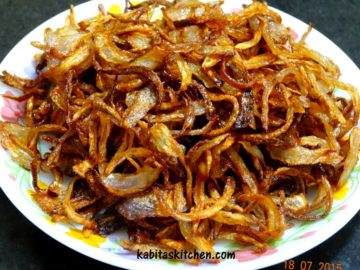 Ingredients:
Onions (finely chopped)-4
Cooking oil-200 ml
Method:
Heat oil in a deep pan.
Add 1/3  quantity of the chopped onions at a time, fry it on medium high flame for a minute.
Simmer the flame to medium and fry it till it turns golden brown.
Take it out on the kitchen towel to absorb extra oil.
Fry the remaining onions in the same way.
Fried onions is ready for biryani or pulav.