Vegetable Hakka Noodle-Vegetable Chow Mein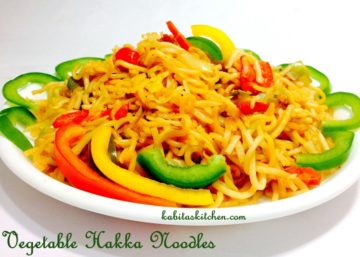 Preparation time-30 minutes
Serving-4
Ingredients:
Boiled noodles-200 gm
Chopped onion (sliced)-2
Carrot (chopped)-1
Red pepper(chopped) -1/2
Yellow pepper(chopped)-1/2
Green pepper (chopped)-1/2
Cabbage (chopped)-50 gm
Green chilli (chopped)-3
Garlic (chopped)-12
Tomato ketchup-1 tbsp
Soy sauce-2 tbsp
White vinegar-1 tsp
Cooking oil-4 tbsp
Salt to taste
Method:
Turn on the flame and heat a pan.
Once the pan is heated, add cooking oil into it and let the oil heat.
Add green chilli and garlic into the oil and fry it for 30 seconds.
Add chopped onion and fry it for 2 minutes on high flame.
Add chopped carrot and fry it for another 2 minutes on medium flame.
Add chopped cabbage and fry it for a minute.
Add yellow pepper, red pepper, green pepper and fry it for 2 minutes on high flame.
Reduce the heat to low flame, add white vinegar, soy sauce and tomato ketchup.
Add little salt (soy sauce already contains salt) and mix it.
Add boiled noodles and mix it properly with half cooked vegetables.
Fry the noodles with vegetables for a minute and turn off the heat.
Garnish with spring onion and serve hot.