Baingan bharta recipe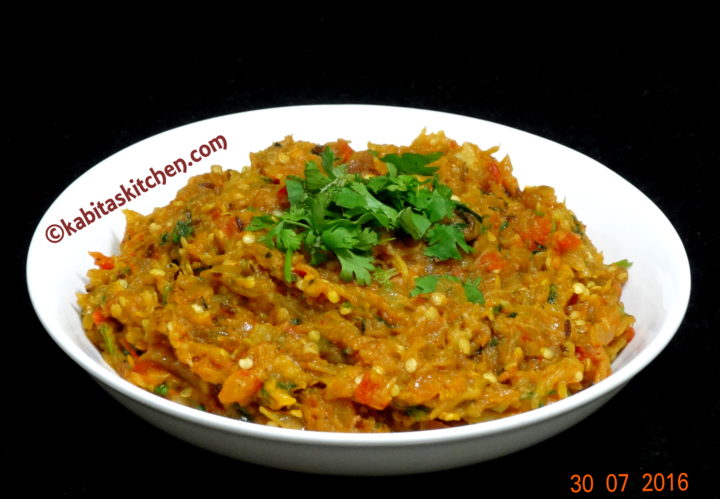 Preparation time for baingan bharta-45 minutes
Serving-4
Ingredients for baingan bharta:
Eggplant/aubergine/ brinjal/baingan-1 (350 gm)
Chopped onion-2(medium)
Chopped tomato-1(large)
Ginger garlic(grated/paste)-1 tsp
Chopped coriander leaves-1/3 cup
Asafoetida(hing)-1/4 tsp(optional)
Cumin seeds-1/2 tsp

Chopped green chilli-2

Turmeric powder-1/3 tsp
Red chilli powder-1/3 tsp
Cumin powder-1/3 tsp
Coriander powder-1/3 tsp
Garam masala powder-1/2 tsp
Salt to taste
Method:
Make 2-3 cuts to the brinjal, insert 1-2 green chilli and garlic inside the brinjal(optional).
Turn on the flame and put the brinjal on the gas stove and roast it on medium flame.
Flip it and roast it till it is cooked properly from all the sides.
Once the brinjal is roasted properly, turn off the flame and let it cool down completely.
Remove the stem and peel it off properly, mash it along with roasted green chilli and garlic.
Heat a pan, add oil and let it heat properly.
Add cumin seeds and hing, fry it for few seconds on medium flame.
Put onion and fry it for 2 minutes on medium flame.
Add ginger garlic paste and green chilli, mix it and fry it for 1/2 minute on medium flame.
Reduce the flame to low, add turmeric powder, red chilli powder, cumin powder and coriander powder.
Mix it and cook it for 1/2 minute on low flame.
Add tomato, mix it and fry it for 2-3 minutes on low-medium flame.
Add mashed brinjal, salt, garam masala powder and coriander leaves, mix it properly.
Increase the flame to medium and fry it for a minute, keep stirring.
Turn off the flame, baingan bharta is ready to serve.