Kala jamun recipe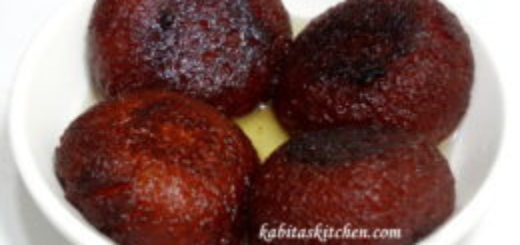 Preparation time for kala jamun-40 minutes
No. of Kala jamun-12 pc
Ingredients for kala jamun:
Mawa(Khoya/Khoa)-100 gm

Paneer (Indian cottage cheese)-25 gm

All purpose flour(maida)-2 tbsp

Baking soda-2 pinch

Cardamom powder-1/4 tsp

Powdered sugar or normal sugar-1 tbsp

Sugar-150 gm (1 large cup)

Cooking oil or ghee for frying
Method:
Sugar Syrup-
Add sugar and 1 cup(200 ml) of water in a pan.

Put the pan on flame, boil it for 20-25 minutes on low flame, keep stirring in between.

Turn off the flame and keep it aside.
Jamun Balls:
Grate/mash the mawa and paneer in a plate.

Add maida, powdered sugar, baking soda and cardamom powder, mix it properly.

Knead it continuously for 8-10 minutes( add 1-2 tbsp of milk or water if the dough is too dry), I didn't add milk or water.

Take a small portion of dough, check it by making one ball, If you see any crack then knead it for few more minutes.

Make equal size of jamun balls of the dough.
Frying process:
Heat oil in a pan on medium flame, ensure oil is not too hot.

Drop a small ball of dough to check the temperature of oil, oil is ready for frying if small bubbles start forming.

Put 3-4 balls at a time in oil, stir the oil continuously.

Fry the balls till it turns dark brown, it takes approximately 8 minutes on low flame.

Use spoon for flipping the balls, keep stirring the oil and flipping the balls, do it carefully.

Take it out from the oil and put it directly in hot sugar syrup (ensure the syrup is hot).

Repeat the process for frying remaining kala jamun balls, leave it for 30 minutes in sugar syrup.

After 30 minutes, kala jamuns are ready to serve.
Note-You may stuff chopped dry fruits inside the kala jamun while making the dough balls.