Mutton curry (Desi style)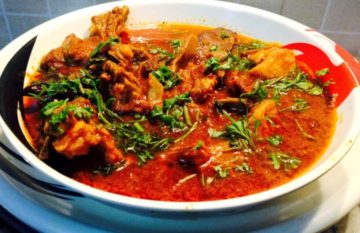 INGREDIENTS-
 Mutton -500 gm
 Onion chopped-500 gm(5-6)
 Dry red chilli-2
 Bay leaves-2-3
 Turmeric Powder-1/2 tsp
 Red Chilli Powder-1/2 tsp
 Ginger,garlic paste-3 tsp
 Cooking oil-6 tbsp
 Cumin seeds-1 tbsp
 Cinnamon stick-1
 cardamom(elaichi)-2
 Garam masala powder-1 tsp
 Salt to taste
 Chopped coriander leaves for garnish
For paste(blend in a mixer jar with little water and make thick paste)
 Cumin seeds-2 tsp
 coriander seeds-1,1/2 tsp
 Black paper whole-1 tsp
 Onion chopped- 1 large
 Ginger chopped -1″
 Garlic-20 cloves
For Marination 
 Turmeric powder-1 tsp
 Red chilli powder-2 tsp
 Salt -1 tsp
 Ginger garlic paster-2 tbsp
Method
 Wash mutton, mix it with marination ingredient and keep aside for 30 mins in refrigerator.
 Heat oil in a pan and put bay leaves,cumin seeds,cardamom,cinnamon stick and fry for 1 mins.
 Add chopped onion and fry them for 7-9 mins,add ginger garlic paste and cook for 3 mins more.
 Add red chill powder,turmeric powder and blended masala paste together in pan and cook it for more 5-7 mins.
 Add marinated mutton in the paste and cook over medium flame with covering lid.
 Check in between and stir, put some water if required.
 Add 2 cup of water and salt,cover the pan with lid and cook for another 15 mins. If mutton is not cooked properly in 15 minutes you may put it in a pressure cooker and cook until 2-3 whistles.
 Add chopped coriander leaves and garam masala powder and turn off the flame.
 Ready to serve with roti,rice and pulao.