Potato Pancake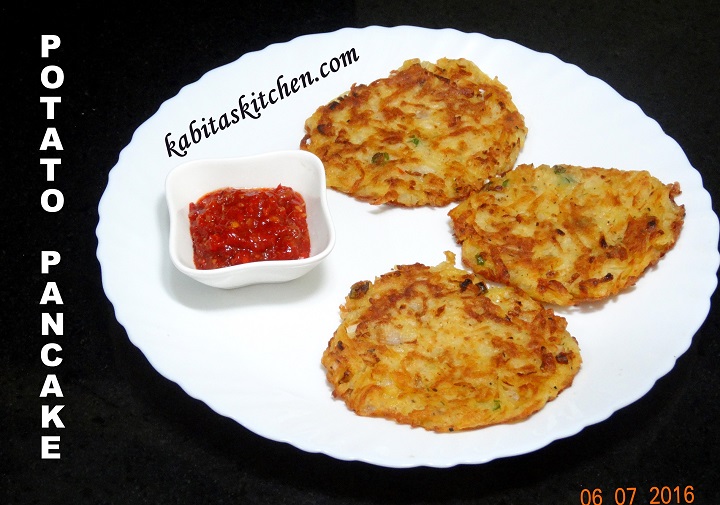 Preparation time for potato pancake-30 minutes
Serving-3
Ingredients for potato pancake:
Potato(peeled and washed)-3(large) or 400 gm
Onion(finely chopped)-1(large)
Egg-2
All purpose flour(maida)-3 tbsp
Green chilli(chopped)-2
Red chilli powder-1/3 tsp
Salt-1 tsp or as per taste
Black pepper(crushed/powder)-1/3 tsp
Italian mix herb-1/3 tsp(optional)
Cooking oil-50 gm
Method:
Grate the potato in a bowl, add  water and leave it for 5 minutes.
Drain and squeeze the water from potato properly.
Crack the eggs in a bowl, add green chilli, red chilli powder, mixed herb and black pepper.
Add onions and grated potato in the same bowl, whisk the mixture properly.

Heat a little oil in frying pan, add oil and let it heat properly.

Once the oil is heated, reduce the flame to low-medium.
Put 1 tbsp of mixture in pan, spread/flatten it evenly.
Cook it for a minute on low-medium flame, flip it carefully, cook it for 3 minutes on low-medium flame.
Cook it from both sides till it turns golden brown.
Once it turns golden brown from both the sides, take it out on kitchen towel.

Repeat the process to make potato pancake from remaining mixture.

Potato pancake is ready, serve it with schezwan chutney, tomato ketchup or green chutney.