Vegetable Lollipop For Kids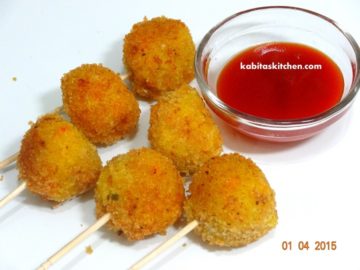 Ingredients:
Boiled potato-3

Carrot (grated)-1

Onion (finely chopped)-1

Grated Paneer/cottage cheese-50 gm

Ginger garlic paste-1 tsp

Red chilli powder(optional)-1/2 tsp

Turmeric powder-1/2 tsp

Maggi masala/maggi magic cubes (optional)-1 pkt

Chat masala powder-1 tsp

Salt to taste

Cornflour-1tsp

All purpose flour/maida-1 tsp

Breadcrumbs-50 gm

Cooking oil for fry

Toothpick/skewer
Method:
Peel off the boiled potato and mash it with grated paneer.

Add chopped onion, grated carrot, ginger garlic paste and 

all the spices into mashed potatoes, mix it properly.

Make equal size small balls of the mixture like lollipop and keep in refrigerator for an hour.

Mix the cornflour and maida together into a bowl and add little water to make thick batter.

Take out the balls from refrigerator.

Take one ball at a time, dip it in the batter, roll into breadcrumbs and keep it aside.

Use the same process for all vegetable balls.

Heat oil into a pan, Put the coated balls one by one into the hot oil.

Fry it on low flame for 1-2 minute then flip it and cook other side for 1-2 minute(fry till it turns light brown).

Take out on the kitchen towel to absorb extra oil, add the fried balls to toothpick or skewer like lollipop.

Serve hot with tomato Ketchup.