Aam Panna-Kairi Panha-Raw mango Summer Juice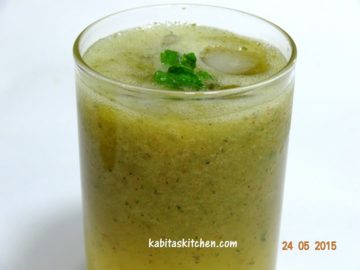 Preparation time-30 minutes
Serving-6
Ingredients:
Raw mango-5 (medium size)
Mint leaves-1/3 cup
Sugar-200 gm
Salt-1/2 tsp
Black salt-1/2 tsp
Lemon juice-1 tsp
Roasted cumin seeds powder-1 tsp
Water
Ice cubes
Method:
Wash the mango properly and boil it with 3 cups of water in pressure cooker for one whistle .
Allow it to cool down, drain the water and keep the water aside for further use.

Peel the boiled mango, separate the pulp in a bowl.

In a blending jar: add mango pulp, sugar, mint leaves, lemon juice, salt, black salt, roasted cumin powder and ice cubes.
Blend it into thick smooth juice, transfer the liquid into a jar.
You may consume it immediately (recommended) or preserve and use it for upto 2-3 days. 
Serving:Take a glass, add few ice cubes and black salt into the glass.
Fill 1/2 of the glass with prepared panna and dilute with chilled water as per your taste.
Decorate with mint leaves and serve chilled.